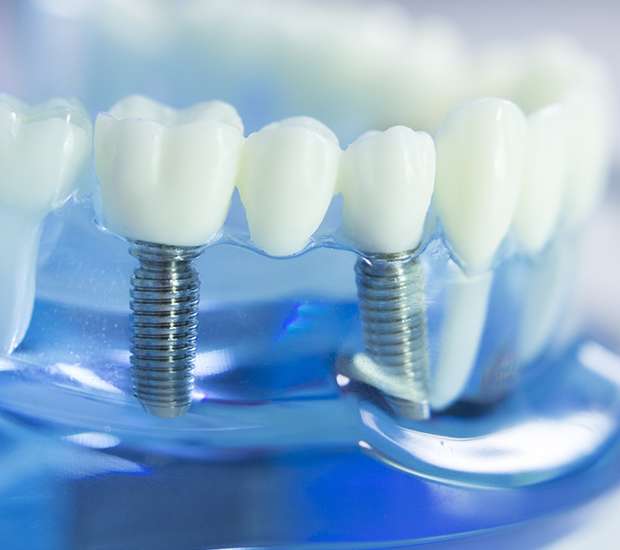 Dental Implants
Gainesville, GA
Our cosmetic dentist team offers dental implants to patients with missing teeth who are looking to improve the appearance of their smile, their oral health and restore the ability to eat the way they desire. Dental implants are a long-term solution, and they have the appearance, feel and functional capabilities similar to that of natural teeth.
We help our patients through the entire dental implants process, from the initial consultation to providing follow-up care after the replacement tooth or teeth are attached. If you are interested in learning more about dental implants, then reach out to our friendly team today and schedule a time to come in for your first visit.
What are dental implants?
Dental implants are a popular form of teeth replacement that many cosmetic dentists recommend to patients who are looking for a long-term solution to tooth loss. A dental implant is a surgical post that is placed into or on the jawbone to serve as the root of a replacement tooth. They offer a variety of cosmetic, oral health and functional benefits, including the following:
More attractive smile
Increased confidence
Preserves bone loss
Fewer dietary restrictions
Long-term solution
Unfortunately, missing teeth can cause a cosmetic issue for most, and many become insecure about the way they look while smiling with missing teeth. Dental implants restore the confidence in the person's smile, which helps them in social situations, at work and in many other avenues of life. Also, unlike other replacement solutions such as traditional dentures and a fixed bridge, dental implants preserve bone loss and can last for as many as twenty-five years.
There are three different components of the dental implants process, which are the implant itself, the abutment and the replacement tooth, which completes the cosmetic transformation. Depending on the number of teeth being replaced, the cosmetic dentist may recommend a dental crown, bridge or implant supported dentures.
When to consider dental implants
Anyone who is missing one or more teeth should consider how dental implants can help them. With that said, there are times when dental implants make a more appropriate solution than other replacement options.
In general dental implants are a good idea for those who have one or more missing teeth, want the most natural and long-term replacement solution and are willing and able to go through a minor surgery for the placement of the implant.
Also, dental implants fuse together with the natural bone inside of the jaw. Subsequently, the patient should have enough bone density to ensure a successful osseointegration process. If the patient has lost bone, then the cosmetic dentist may recommend a bone grafting procedure, which involves replacing any bone that was lost with natural bone elsewhere in the body or artificial bone material.
The cosmetic dentist may also recommend treating periodontal disease before the placement process. The best way to determine if dental implants are right for the patient is to give our cosmetic dentist team a call and schedule a visit. We can explain the implants process in greater depth, answer any questions and help make an informed decision about treatment.
How the dental implants process works
Cosmetic dentists tailor their treatment plans specifically for each patient, and each one may have a different path to a new smile with dental implants. However, there are certain steps that are required in the process. The first step towards dental implants treatment is to give our team a call and schedule an initial visit.
On the first visit, the cosmetic dentist can go over what the patient hopes to get out of treatment and explain all treatment options that are available. They may also conduct a thorough oral examination and conduct dental X-rays to determine what mouth preparations are necessary before implant placement (bone grafting, gum disease treatment, etc.).
Once both the cosmetic dental team and the patient agree to move forward in the process and the mouth is ready for dental implants placement, the procedure time will be scheduled. It typically takes several months for the mouth to properly heal and the implant to fuse together with the natural bone inside the jaw. After the implant has successfully fused and is stable inside the jaw, an additional visit is scheduled for the placement of the abutment and the artificial tooth replacement, which is typically either a dental crown, bridge or dentures.
How to take care of dental implants long-term
For the immediate aftermath following the placement of the implants, quality oral hygiene is even more essential to prevent infection and minimize the amount of pain and swelling near the implant area. Be certain to follow all post-care instructions provided by the dentist in addition to keeping the mouth clean with gentle brushing and daily use of mouthwash.
For the most part, patients care for dental implants long-term the same as they would natural teeth, and it is essential to practice good oral hygiene by brushing several times each day, flossing and using mouthwash regularly and checking for any signs of complications.
Unlike traditional dentures, however, dental implants are permanently fixed and non-removable, which makes care far more convenient for many. We also encourage avoiding any harmful foods that may damage the replacement teeth, existing natural teeth or gums, such as foods and drinks high in sugar or extremely hard foods.
If any signs of complications develop, such as swollen gums, the loss of existing teeth or an implant that becomes loose, contact the cosmetic dentist right away for prompt and effective care, ensuring issues do not worsen or linger for longer than necessary.
Consult with us
Everyone deserves a smile they love and are proud to show off in social and professional settings. A beautiful, confident smile can have a tremendous impact on one's daily life, and we enjoy helping our dental implant patients achieve a higher level of confidence and overall happiness with their new smile.
If you are one of many who have endured tooth loss for any reason, then get in touch with our cosmetic dentists today and come into our office at a convenient time to discuss dental implants and other teeth replacement solutions that might be available.
GDC Smiles is located at 950 Washington Street NW Ste. J Gainesville, GA 30501.
Recent Posts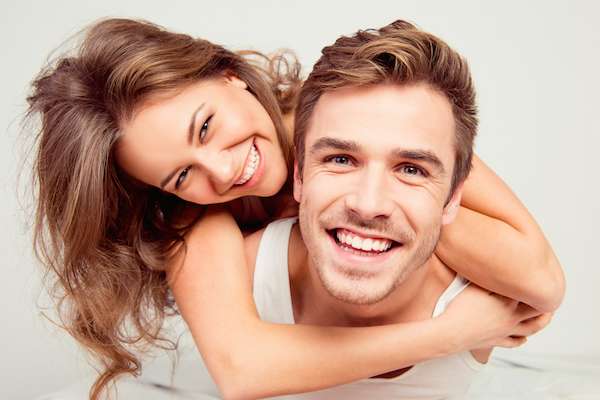 When dealing with dental imperfections, there are many ways to improve your smile. Patients with issues such as misaligned, discolored, chipped or misshapen teeth, as well as gum disease, may feel embarrassed about their smiles. Fortunately, there are multiple tactics and treatments available that can enhance the color, shape and alignment of teeth.These are six…